Twin System (hose fitting), Lead and Heavy Metal, Pb1', 10 inch standard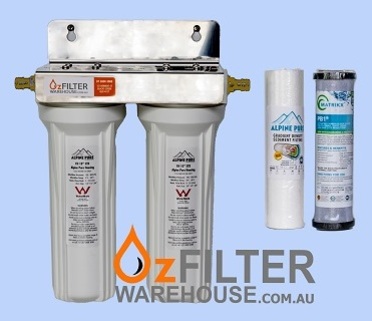 * Top Quality Twin water filter system suitable for boating or camping.
* This Twin system can be used when there is a high level of sediment in the water by using a 1 micron Gradient Density Polyspun pre filter to prolong the life of the second filter.
* Second Filter is a 0.5 micron MATRIKX Pb1' KX industries cartridge. This filter is used for Giardia/Cysts as well as Chlorine taste and Odour reduction plus for Lead and Heavy Metal reduction.
* Twin 10 inch Standard size, 100% Polypropylene housings made with materials complying with NSF/ANSI Standard 42 and carrying a 5 Year structural warranty.
* Hose connectors to fit any standard household hose
* Stainless Steel Twin Bracket.
* Centre Watertight O-Ring.
* DO NOT Overtighten housing to head.
Housings are suitable for all 10 inch standard filter cartridges
View your shopping basket or browse other items.
Other products you might be interested in