HydroSil-ULTRA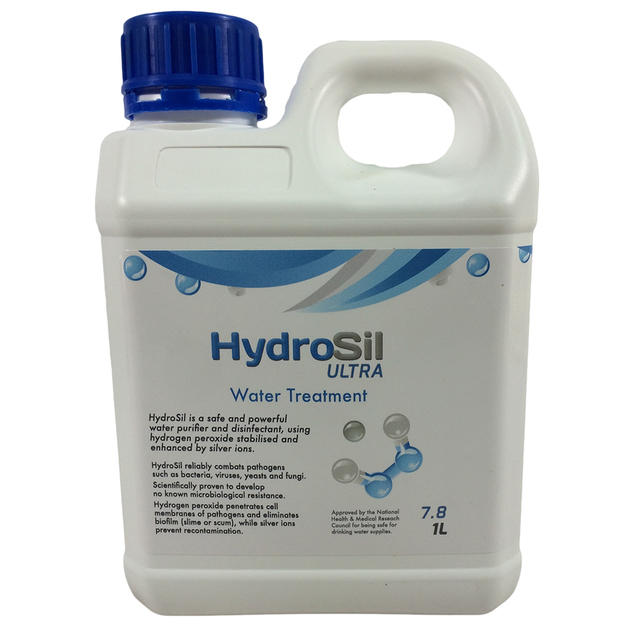 * When rainwater comes into contact with contaminated surfaces such as roofs, gutterings and downpipes it picks up harmful bacteria such as E.Coli from animal & bird droppings.

* This bacteria is carried through the water and into the water storage device or storage tank.

* The bacteria can then colonize in the water and harmful illnesses can occur when the water is consumed.

* HydroSil-ULTRA is hydrogen peroxide based with a silver activated sanitizer, which acts to oxidise bacteria, without leaving any dangerous residues behind. 

* HydroSil-ULTRA sanitizes and protects your tanks and water storage devices, making the water safe and suitable for human consumption.

We sell HydroSil-ULTRA in three sizes:
2 Litre
5 Litre
20 Litre
Please choose the size from the drop down box.
Suits:
Drinking Water Tanks
Cattle Troughs
Water Filtration Systems
Water Storage Containers
Bore Holes
Caravan tanks

For Use:
Around the home
Caravans
Farms
Orchards
Dairy Farm
Laboratory Sanitiser
Fish handling industry
Meat works
Dosage:
For the initial treatment 20mls per 100 Ltrs of water (200mls per 1000 Ltrs)
For ongoing maintenance use 10mls per 100 Ltrs of water (100mls per 1000Ltrs)
In order to get a true reading of the amount of oxygen contained in the water after application use peroxide test strips.
HydroSil-ULTRA is not a chlorine based chemical like most sterilizers on the market today. It is non toxic, and safe to use around your home and family.

HydroSil-ULTRA is perfect for controlling insect lavae (such as mosquitos), and preventing breeding and colonising in your water tank.

HydroSil-ULTRA acts to control lavae, preventing outbreaks. This is imperative in a country such as Australia, where the risk of dangue fever and other mosquito born diseases is always of high risk.

The introduction of HydroSil-ULTRA into wells or mains water can best be accomplished by a metering device which keeps the application more constant and thorough, although manual application can be used.

Dosing can be accomplished by the use of a proportional feeder. In order to get a true reading of the amount of oxygen contained in the water after application, use peroxide test strips designed especially for this purpose.

HydroSil-ULTRA MSDS PDF  

View your shopping basket or browse other items.
Other products you might be interested in