Omnipure ELF 5M Sediment Cartridge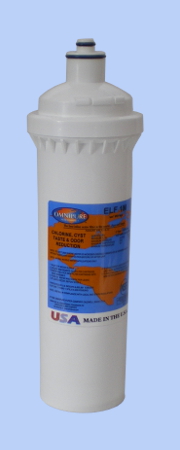 * Omnipure ELF Made in USA.

* 5 micron sediment filter.

* This Omnipure ELF (Extra-Large Format) is a bayonet style quick release replacement cartridge that can be changed without tools.

* For Dirt, Sand and Sediment reduction.

* Capacity flow rates of up to 6.3 LPM Volume capacity dependent on Influent Water Quality.

* Large Volume & High Flow Rates for the Commercial and Residential use.
This Omnipure ELF-Series water filter is a replacement filter cartridge only and must be used with an existing ELF-Series head. If you do not have a head unit then you will need to purchase one to make the system complete.
Links to:
Omnipure ELF 5M Sediment Specs:
Bayonet-style replaceable body
Better tasting, polished water
Best cost-to-performance ratio in the industry
Dimensions: 3.125@ O.D. x 2.875@ I.D. x 12.7@ L
Rating: 5 Micron Rating
Flow Rate: 6.3 LPM
Maximum Pressure: 125 PSI
Maximum Temperature: 38˚C
Service Life: Dependent on Influent Water Quality.
Reduces: Dirt, Sand, Sediment
Do not use with water that is microbiologically unsafe or of unknown quality without adequate disinfection.
View your shopping basket or browse other items.
Other products you might be interested in