Omnipure ELF 5M Carbon Block Cartridge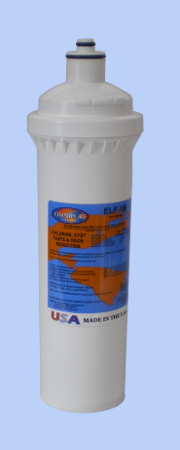 * Omnipure ELF Made in USA.

* 5 micron Carbon Block Water Filter Cartridge.

* This Omnipure ELF (Extra-Large Format) is a bayonet style quick release replacement cartridge that can be changed without tools.

* For Chlorine Taste and Odour reduction > 95%

* With a capacity of up to 37,500 Ltrs and flow rates of up to 6.3 LPM, suitable for commercial and residential drinking water systems as well as food service.

* Made in USA, Tested and Certified by NSF International under ANSI/NSF Standard 42 for materials only.

* Large Volume & High Flow Rates for the Food Service Industry
This Omnipure ELF-Series water filter is a replacement filter cartridge only and must be used with an existing ELF-Series head. If you do not have a head unit then you will need to purchase one to make the system complete.
Links to:
Omnipure ELF 5m Carbon Block Water Filter Specs:
Bayonet-style replaceable body
Better tasting, polished water
Best cost-to-performance ratio in the industry
Dimensions: 3.125@ O.D. x 2.875@ I.D. x 12.7@ L
Rating: 5 Micron Rating
Flow Rate: 6.3 LPM
Maximum Pressure: 125 PSI
Maximum Temperature: 38˚C
Service Life: 1 Year or 37,500 LTRS
Filtration Media: Carbon Block
View your shopping basket or browse other items.
Other products you might be interested in