Viqua VH200/2AW Canadian Made UV System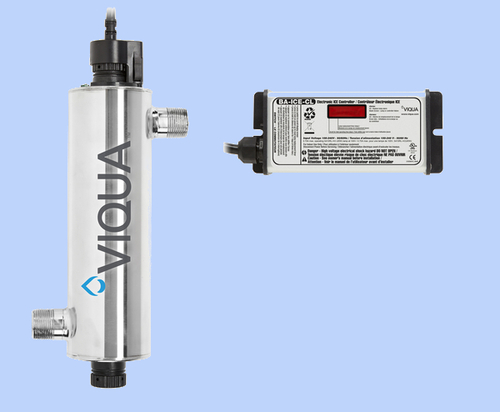 * This VH200/2AW Ultraviolet unit is made by Viqua, Canada the worlds largest UV manufacturer and Carries the WaterMark Certificate of Conformity. Used worldwide to treat bacteria and Cysts including E-Coli and Giardia.

* A compact system at 45cm long but large enough to handle the flow requirements of smaller homes. It is also factory rated for treating water flows up to 60 Lpm. S shaped with 20mm female or 25mm male ports.

* The Viqua VH200/2WA Ultraviolet (UV) water sterilizer is a popular and economical choice for whole house water purification to treat bacteria (including coliform and e.coli), viruses, cryptosporidium, giardia, and a wide range of other microbiological contaminants.

Replacement Parts:
Lamp Part Number S200RL-HO - Replace every 12 months.

Quartz Tube Part Number QS-001 - Replace every 24 months or as needed.

Space Efficient: High UV output lamp technology allows for a smaller footprint while providing the same UV performance as a longer chamber. 

Ease of Maintenance: Audible lamp replacement reminder and countdown timer with digital display. A controller will also go into alarm if the lamp fails. 

Reliable: The constant current feature ensures stable UV lamp output, regardless of power fluctuations.

High-performance UV lamp, rigorously tested to provide a consistent output over the entire lamp life (9000 hours).

Application: Perfect for a wide range of whole-home, point-of-entry water treatment solutions in homes, cottages, or OEM applications.
Do Not Position the Viqua VH200/2AW UV unit where it could become Frozen.
Do Not Allow Water Hammer or Pressure over 90 PSI.
Do Not Wet The Ballast or Lamp.
Always Use a Water Proof External Power Supply Outlet.