GRO-575M 5 STAGE REVERSE OSMOSIS SYSTEM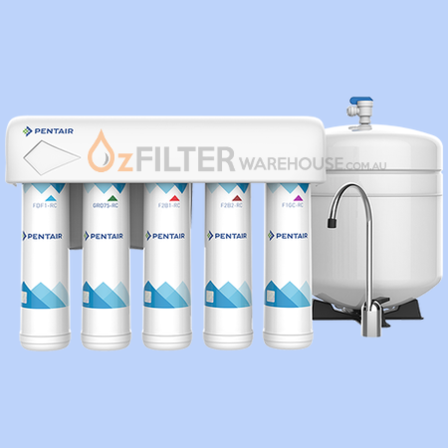 PENTAIR/PENTEK FRESHPOINT RESIDENTIAL REVERSE OSMOSIS SYSTEM

* This system is one of the newest in technology for home water filtration.

* The high performance GRO technology means less wasted water than a traditional reverse osmosis membrane.

* The drinking water system is designed to fit nice and compact under your kitchen sink for fresh, purified drinking water.

* The GRO-575M can handle 75 gallons per day (GPD) and reduces an impressive list of harmful contaminants including chlorine, fluoride and lead, to name a few.
This system has been tested according to NSF/ANSI 58* for the reduction of substances listed below. The concentration of the indicated substances in the water entering the system was reduced to a concentration less than or equal to the permissible limit for water leaving the system as specified in NSF/ANSI 58*.
TESTED FOR REDUCTION OF:
Chlorine Taste and Odour, Total Dissolved, Solids Fluoride, Cysts, Lead, Copper, Barium, Arsenic.
Atrazine, Lindane and Volatile Organic Compounds (VOC'S)
FEATURES:
* GRO Membrane Technology increases efficiency by using less water
* Dual Diamond Flow reduces both chlorine taste, odour and sediment in one
* 5-Stage Filtration thoroughly filters and treats drinking water
* Easy click in filter change for effortless filter installation
* Lead Reduction through a special chemical reduction cartridge
* Onboard TDS monitor measures rejection of GRO element within the GRO-575M model.
* Include high performance VOC carbon block filters.
* NSF Certified the GRO-575M is NSF/ANSI standard 42, 53 and 58 certified.
* Compact design fits conveniently under your kitchen sink.
* Easy installation click-to-lock cartridge filters, eliminating the mess and difficult of filters.
SPECIFICATIONS:
Temperature Range: 40 - 100°F Pressure Range: 40 – 100PSI
System Production Rate: 75 GPD Recovery Rating: 41.05%
Efficiency Rating: 23.57% TDS Rejection: 96.3%
Dimensions: 45cm W x 14cm D x 32cm H
Weight: GRO-575 (system only) 4.5kg.Top of Form
WHATS IN THE BOX: System with Cartridges, Storage Tank, Installation Hardware Kit and Lead-Free Drinking Water Faucet with Air Gap.
View your shopping basket or browse other items.
Other products you might be interested in