Omnipure Q5666 - Fluoride Reduction Water Filter.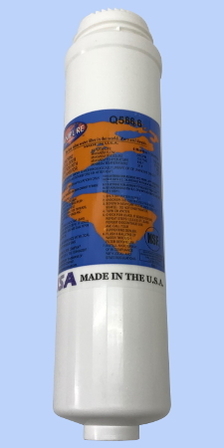 * Omnipure Q5666 Made in USA * ABA-2000FL™ is a new and improved high yield activated aluminum oxide specially formulated for the removal of fluoride from drinking water.
* Contains only aluminium oxide for the reduction of fluoride and will not remove chlorine taste and odour. Should be followed by a Carbon Block or GAC Water filter for taste and odour reduction.
* The Q-Series is the ultimate "user friendly" inline filter cartridge on the market. Replacement of the used cartridge is completed in a matter of seconds by detaching the filter body from a permanent Q series head with a twist of the wrist.
PLEASE NOTE THIS IS FOR THE REPLACEMENT CARTRIDGE ONLY
Product line to be discontinued. Normally $89.50 - Current Special Price $44.00
This Q-Series water filter is a replacement filter cartridge only and must be used with an existing Q-Series head. If you do not have a head unit then you will need to purchase one to make the system complete.
The head unit is listed here: Omnipure Q-series Head listing link

The Q-Series heads are available in ¼" or ⅜"  Quick-Connect fittings or ¼" FNPT female threads
Omnipure Q5666 Water Filter Specs:
* Capacity: Approx. 2000 LTRS Fluoride Reduction
* Flow Rate: 1.9 LPM
* Maximum Pressure: 125 PSI
* Temperature: 2-38˚c
Do not use with water that is microbiologically unsafe or of unknown quality without adequate disinfection.
Omnipure Q5666 PDF Data Sheet. 

View your shopping basket or browse other items.
Other products you might be interested in