Aptera Alkamag Alkaline Inline Water Filter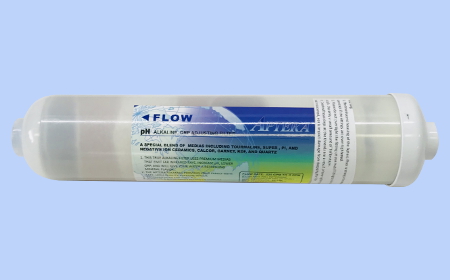 * This true Alkaline filter offers premium filtration medias that emit Far Infrared Rays, increases pH, and gives your water a refreshing mineral flavour.

* Flow rates, water temperature, water quality, and many other variables will determine the actual performance and capacity of this filter.

* Longer contact times (slower flow rates) will increase the filter's ability to alter the water and will also lessen the filter's overall capacity.

* Only to be used as an RO Post filter just prior to the tank. Cannot be used as a stand alone filter.

Refer to the PDF Data Sheet below for more information.
* Increases pH
* Lowers ORP
* 1 to 1.9 LPM Flow Rate
* Flow Rate will determine Remineralization and pH level
* Maximum Pressure: 80 PSI
* Maximum Temperature: 32º C
* For use as a Reverse Osmosis Postfilter
* 1/4" FPT (female threads) on both ends
Aptera Alkamag Alkaline PDF Data Sheet 

View your shopping basket or browse other items.
Other products you might be interested in