Omnipure K5566 Fluoride Reduction Water Filter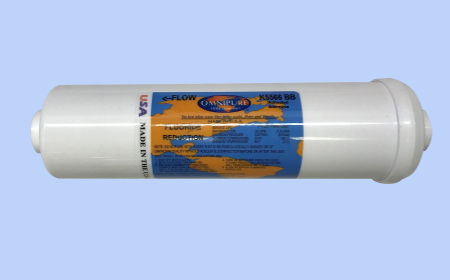 * Omnipure K5566 Made in USA. The K5566 inline filter is designed for the reduction of fluoride using Activated Alumina filter media.
* Tested and Certified to NSF Standard 42 for Aesthetic Effects
* This filter is available with ¼" FPT (female threads) 1/4" or 3/8" quick connect fittings, please choose from options below.
Omnipure K5566 Fluoride Reduction Water Filter Specs:
* Dimensions: 10 X 2.5"
* Flow Rate: 1.9 LPM
* Maximum Pressure: 125 PSIG
* Maximum Temperature: 38˚C
* Filter Life: 2800 LTRS
Do not use with water that is microbiologically unsafe or of unknown quality without adequate disinfection before or after the system'.
Omnipure PDF Data Sheet 

View your shopping basket or browse other items.
Other products you might be interested in