40" x 2-½" Polyspun-Alpine Pure Gradient Density-1 Micron
20 Micron down to 1 Micron Density.

* Complies with NSF/ANSI Standard 42 for Quality Assurance

* Grooved Exterior for increased Surface Area

* 2 Different Micron Layers for Maximum Depth Filtration

* 2 Different Micron Layers for Longer Lasting Maximum Flow

* Factory Heat Stamped Micron Rating for Ease of Reordering

* 100% Polypropylene

* No Binders

* No Glue

* Dependable

* Our No 1 requested Cartridge, unique grooved outer layer holds more dirt and impurities than normal depth poly spun or pleated filters.

*** Please note this filter is not the normal Polyspun Depth Cartridge it is the highest quality Twin Gradient Density, complying with NSF/ANSI Standard 42.

Suitable for all 40 inch standard filter and cluster housings.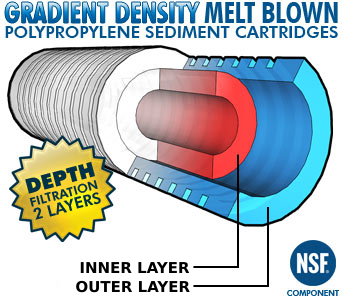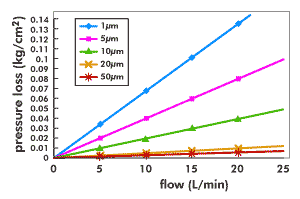 Features and Benefits
Gradient Density, Multi-Layered, Melt Blown Sediment Filter Cartridge.

Larger particles are trapped in the outer layers, smaller particles penetrate deeper.

Greater dirt holding ability and longer life than non-layered cartridges.

Thermally bonded polypropylene micro fibers for purity and chemical compatibility

Contains no binders, agents, solvents, antistatic materials or wetting agents

Meets FDA requirements for food and beverage contact

No leachables or extractables to contaminate

No surface binders to reduce flow and increase change-out frequency

Available in wide range of lengths and micron ratings

Cartridges are individually shrink wrapped
Applications
Whole House Sediment Filtration

Reverse Osmosis Prefiltration

Food and beverages

Oil and gas

Fine chemicals

Electronics

Metal finishing

Pulp and paper
View your shopping basket or browse other items.
Other products you might be interested in