VIQUA PRO20, Pro UV System with LightWise Technology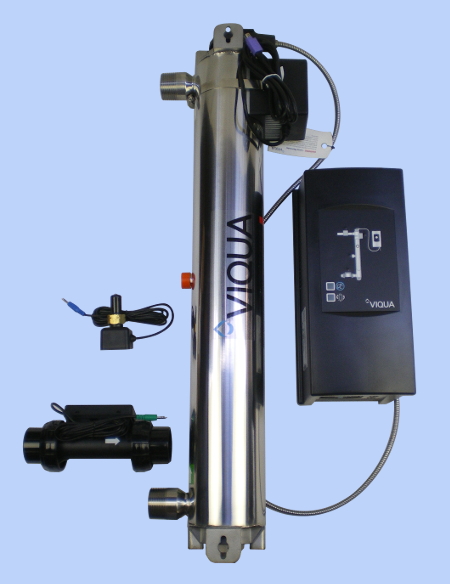 20 GPM (76 lpm) at 40 mJ/cm², PRO20 with NSF 55 Class A Certification, UV Sensor, Component Status Indicators, Amalgam Lamp with Two Year Lifecycle, Cool-Touch Fan, Flow Meter, Flow Restrictor, LightWise™ Technology


NSF/ANSI Standard 55, Class A certification. 
This validated system carries a 40 mJ/cm2 UV dose at the alarm set-point as dictated by NSF/ANSI Standard 55 test protocol.
System offers a 4-log reduction (99.99%) in bacteria, virus and protozoan cysts (Giardia lamblia and Cryptosporidium). 
Applications include private wells, camp grounds, hotels, bottlers, aquaculture, hospitals, food, cottages, restaurants, breweries, water systems, laboratories, marine, pharmaceutical, dairies and many other.
Do Not Position the Viqua Pro20 UV unit where it could become Frozen.
Do Not Allow Water Hammer or Pressure over 90 PSI.
Do Not Wet The Ballast or Lamp.
Always Use a Water Proof External Power Supply Outlet.