5" x 2-½" KX PB1 0.5 micron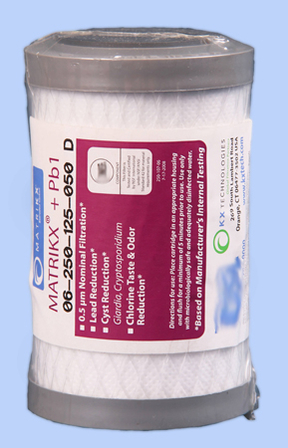 A 5 inch filter, NSF Certified, 0.5 micron and rated for Chlorine, Heavy Metals, Giardia and Cryptosporidium. Perfect for Boats, Camper Vans, suitable for all 5 inch underbench and benchtop filter systems. This is the best quality carbon block filter available.
Suitable for town supply water
0.5 micron for Giardia/Cysts chlorine taste and odor.
0.5µm Filtration
High Chemical Adsorptive Capacity
High VOC and TOC Reduction
High Turbidity Reduction
Do not use with water that is microbiologically unsafe or of unknown quality without adequate disinfection before or after the system.