Viqua VH410/2AW Canadian Made UV System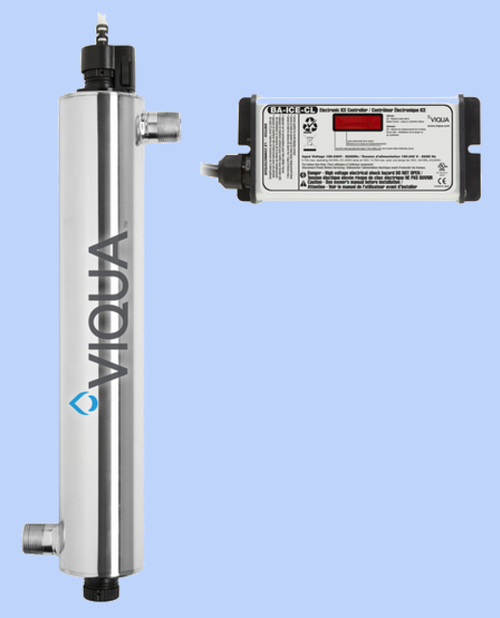 * This VH410/2AW Ultraviolet unit is made by Viqua, Canada the worlds largest UV manufacturer and Carries the WaterMark Certificate of Conformity. Used worldwide to treat bacteria and Cysts including E-Coli and Giardia.

* A compact system but large enough to handle the flow requirements of a 2-5 bathroom home. It is also factory rated for treating water flows up to 130 Lpm.

* S shaped 20mm female or 25mm male ports.

* Ultra Low 45 watt lamp power usage compared to competitor models.

* Used in our Bug Buster Pro Series waterproof UV Systems.

* The Viqua VH410/2AW Ultraviolet (UV) water sterilizer is a popular and economical choice for whole house water purification to treat bacteria (including coliform and e.coli), viruses, cryptosporidium, giardia, and a wide range of other microbiological contaminants.

* Used in Hot water reticulated ring mains for temperature's up to 55 DEG Celsius. Perfect for Hospitals, Rest Homes, Hotels and Motels.

* Lamp part number S410RL-HO
* Quartz Tube part number QSO-410
Price:
AU$
1,045.00
including GST
Do Not Position the Viqua VH410 UV unit where it could become Frozen.
Do Not Allow Water Hammer or Pressure over 90 PSI.
Do Not Wet The Ballast or Lamp.
Always Use a Water Proof External Power Supply Outlet.
This model does NOT include a UV intensity monitor and it CANNOT be connected to an emergency solenoid shut-off valve. If either of these features appeal to you, we recommend that you consider the  VIQUA NSF Class A Commercial System.