Omnipure K2567 KDF & GAC - 1 micron Water Filter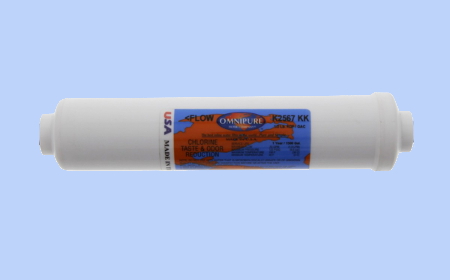 * Omnipure K2567 made in USA. GAC with KDF water filter is a granular activated carbon filter used to reduce taste, odor and chlorine taste and odour, water-soluble heavy metals, and control scale, bacteria and algae.
* KDF Medium is designed specifically for removing or reducing chlorine and water-soluble heavy metals. It also controls scale, bacteria and algae.
* KDF is a water filtration media of high-purity alloy of both copper and zinc, can be flaked or granulated. Usually appearing gold or brass in colour.
* The K2567 Inline filter can be used for a variety of uses including Coffee machines, ice machines, water coolers, drinking fountains, as well as under sink applications
* The K2567 Inline filter has a 1/2 pound of KDF.
* This filter is available with ¼" FPT (female threads) or ¼ inch Quick Connect fittings, please choose from options below.
Product line to be discontinued. Normally $49.50 - Current Special Price $16.50
Omnipure K2567 KDF/GAC Water Filter Specs:
* Dimensions: 10" x 2"
* Flow Rate: 2 LPM
* Maximum Pressure: 125 PSIG
* Maximum Temperature: 38°C
* Capacity 5700 LTRS,  A life of one year should be expected from this filter.
* Reduces: Chlorine Taste & Odor
* Reduces: Scale, Bacteria and Algae
* Filtration Media: Granulated activated carbon with 1/2 lb. KDF
* Fitting Size: 1/4" FP
Do not use with water that is microbiologically unsafe or of unknown quality without adequate disinfection.
Note the direction of flow arrow on the filter and install accordingly.
For quick connect fittings: Push scratch free tube end into the fitting until it bottoms.

As this filter is Granulated activated carbon it needs to be flushed until the water runs clear.

To do this we recommend the inlet pipe is fitted to the filter and then the filter is flushed into a bucket before installing the outlet pipe. This way the fine particles of carbon are not flushed though your appliance.

Omnipure K2567 PDF Data Sheet