CR1 10 inch Standard Underbench System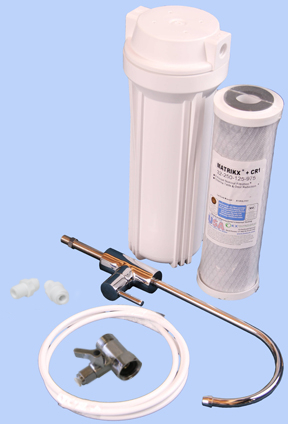 * Top Quality Under Bench water filter system using the Alpine Pure 10 inch Standard size, WaterMark Approved Filter Housing.

* 0.5 micron Omnipure carbon block filter for Giardia/Cysts Chlorine taste and Odour reduction, made with NSF Certified material.

* When the sediment levels are elevated in your water supply the twin system is recommended having 1 micron Gradient Density Polyspun pre-filter in the first housing to prolong the life of the Carbon Filter

* Suitable for both Chlorinated water or Rural water supplies.

* 100% Polypropylene Housing and Head, made with materials complying with NSF/ANSI Standard 42 and carrying the WaterMark Certificate of Conformity.

* 5 Year structural warranty.

* ¼" Polyethylene Tube complying with NSF/ANSI Standard 42.

* Regency Ceramic Disc Faucet.

* Center Watertight O-Ring.

* DO NOT Overtighten housing to head.
Please choose one of the following water connections to be included in the package.
Please put a note on the purchase page of your preference.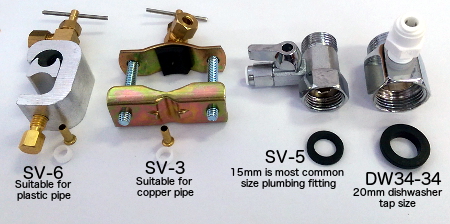 Replacement Cartridges Product code and link
Carbon Block Filter Cartridge Details:
0.5µm Filtration
High Chemical Adsorptive Capacity
High VOC and TOC Reduction
High Turbidity Reduction
View your shopping basket or browse other items.
Other products you might be interested in