RO Replacement 2nd stage Carbon Cartridge - MATRIKX CTO/2®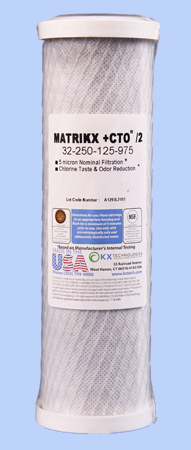 This 10" x 2-½" MATRIKX CTO/2® carbon cartridge is perfect as a second stage carbon filter in most home RO systems.

* These MATRIKX CTO/2® KX industries cartridges are made in USA.

* Suitable for town/rural Microbiologically safe water.

* 5 micron for chlorine taste and odor.

* NSF 42 Certified for material requirements only.

* This 5 micron water filter is one of the most widely used and is also known as "The Workhorse."

Suitable for all 10 inch standard housings.
View your shopping basket or browse other items.
Other products you might be interested in