Clear 10 inch Big / Jumbo Housing, 1 inch (25mm) ports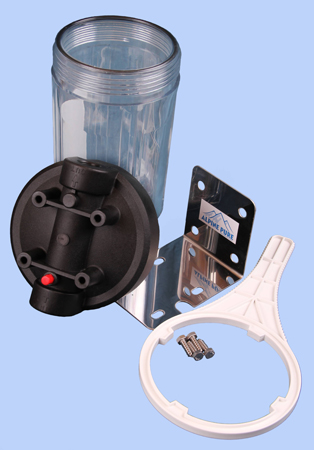 10 inch Clear, Alpine Pure Big /Jumbo filter housing for full flow with 1 inch (25mm) BSP Ports.

* These 10 inch Clear Alpine Pure Big / Jumbo housings are commonly used for whole house systems as a single housing or a twin unit when joined together with 1 inch nipple and a twin bracket.

* 5 Year Structural Warranty.

* Center Watertight O-Ring.

* Max Pressure: 90 psi.

* Includes:

Clear Big / Jumbo Filter Housing.

Stainless Steel bracket.

Stainless steel screws.

Housing Removal Spanner.


***Please Note: This Filter Housing does not include a filter cartridge.

These clear housings are not recommended to be situated in any sunlight as green Algae will grow inside the housing.


All 10 inch X 4-½ inch Big or Jumbo Cartridges will fit this housing.