5" Compact Benchtop Filtration System with Pb1®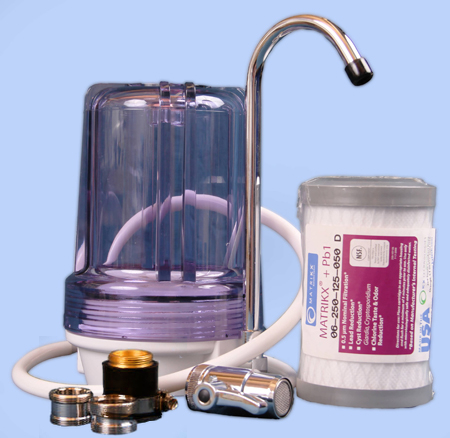 * Compact 5 inch housing.

* Includes a 0.5 micron Pb1® NSF Certified cartridge for reduction of Chlorine, Heavy Metals, Giardia and Cryptosporidium.

* Ideal for a home, campervan, boat or where space is tight.

* Comes with all fittings as shown to connect to your tap whether you have a single tap or a faucet.

* Cheap to replace cartridges, will last up to 1 year for a couple and 6 months for a family.

* These clear housings are not suited to sitting in the sunlight as algea will grow inside the housing.
Replacement Cartridges Product code and link
Filter Cartridge Details:
0.5 µm Nominal Filtration

Rated Flow 0.75 GPM, 1000 Gallons Life

Lead, Cyst & Turbidity Reduction based on NSF/ANSI Standard 53

Outstanding Chlorine Taste and Odor Reduction

Performance Tested and Verified by Independent Laboratory Testing
Heavy Metals Reduction
KX MATRIKX Pb1 extruded activated carbon filters reduce soluble lead using an ion-exchange filter medium with high specificity for soluble lead.  Particulate filtration is used to intercept insoluble lead-containing particles. 
Chemical Adsorption
KX MATRIKX Pb1 filters offer high levels of chemical reduction in potable drinking water, including chlorine taste and odor.
Particulate, Cyst and Turbidity Reduction
KX MATRIKX Pb1 filters meet NSF/ANSI Standard 53, Turbidity and Cyst Reduction, including Cryptosporidium, Giardia, Entamoeba and Toxoplasma.  Graded-density filtration combined with high dirt capacity extruded activated carbon provide several times greater life than molded filters.
View your shopping basket or browse other items.
Other products you might be interested in