5" Compact Benchtop Filtration System with CTO®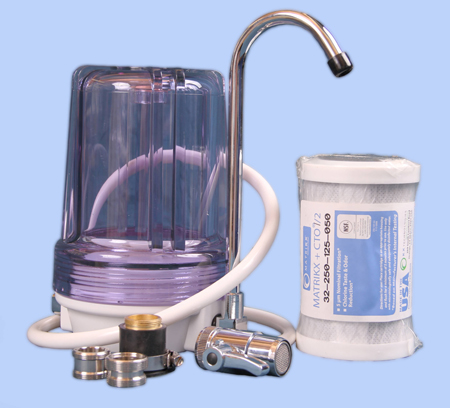 * Compact 5 inch housing.

* Includes a 5 micron CTO® cartridge for reduction of Chlorine, Taste, Odour.

* Ideal for a home, campervan, boat or where space is tight.

* Comes with all fittings as shown to connect to your tap whether you have a single tap or a faucet.

* Cheap to replace cartridges, will last up to 1 year for a couple and 6 months for a family.

* These clear housings are not suited to sitting in the sunlight as algea will grow inside the housing.
Replacement Cartridges Product code and link
MATRIKX +CTO®/2 Extruded Activated Carbon Block Filter is the most widely used carbon block filter in the world!
Class 1 Turbidity Reduction > 98% @ 10 Microns
Outstanding Chlorine, Taste and Odor Reduction
MATRIKX +CTO®/2 is a powerful, multifunctional filter cartridge for residential and commercial water purification systems. Ideal for Reverse Osmosis pre and post filtration.
Chemical Adsorption:
MATRIKX +CTO®/2 filters offer high levels of chemical reduction in potable drinking water, including chlorine and other compounds that contribute to taste and odor. +CTO®/2 is widely used for filtering organic solvents.
Improves taste, eliminates odors, removes color
Competitively priced compared to Granular Activated Carbon Filters.
For Use With Cold Water Only
View your shopping basket or browse other items.
Other products you might be interested in