Whole House Triple 20 inch Big Blue / Jumbo CTO Kit with 1 and 20 Micron Prefilters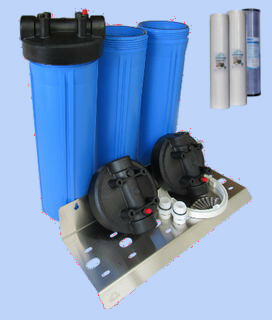 * Triple 20 inch Heavy Duty WaterMark Approved Alpine Pure Big Blue / Jumbo filter housings with a Matrikx CTO/2® Carbon Block Filter and two Polyspun Alpine Pure Gradient Density pre-filters (1 micron and 20 micron).
* Matrikx CTO/2® filters are suitable for the removal or reduction of Chlorine, Pesticides, Insecticides & particulate matter as well as improving the taste and odour of the water to give perfect tasting water in every tap and shower in your home.
* This 5 CTO micron water filter is one of the most widely used and is also known as "The Workhorse."
* The Sediment Pre-Filters are used to remove suspended solids, sediment and particles from the water and protects the more expensive Matrikx CTO/2® from premature blocking from sediment.
* Max Pressure: 90 psi and are suitable for town or rural use but when used on town supply should always have a pressure limiting valve installed before the housings to protect them.
* 65 LPM flow rate.
* 100% Polypropylene Housings and heads with WaterMark Certificate of Conformity, NSF Approved materials.
* 5 Year Housing Structural Warranty.

Kit includes:
* One x 20 inch Big Matrikx CTO/2® Cartridge
* Two x 20 inch Big Polyspun Gradient Density Pre-Filters (1 micron and 20 micron)
* Three 20 inch Big/Jumbo Water Filter Housings with 20mm or 25mm BSP Ports
* Triple Stainless Steel bracket
* Housing spanner
* SS housing screws
* Housing jointer.

Note: Filter Housings can be supplied with 25mm BSP ports as an option at no extra cost. Click the size option below to choose port size.
View your shopping basket or browse other items.
Other products you might be interested in