Triple Underbench Healthy Choice, Omnipure Fluoride and Matrikx Pb1'
* Ultimate Healthy Under Bench water filter system for those that require the best.

* USA made Omnipure K5566 inline filter designed for the reduction of fluoride and a 0.5 micron Matrikx Pb1' Carbon Block cartridge for Giardia/Cysts chlorine taste and odour reduction.

* The top of the line Matrikx Pb1' is also rated for Lead and Heavy Metal reduction, made with NSF Certified material.

* A 1 micron Gradient Density Polyspun pre filter to prolong the life of the Matrikx Pb1' by reducing sediment blockage

* Triple 10 inch Standard size, 100% Polypropylene housings made with materials complying with NSF/ANSI Standard 42 and carrying a 5 Year structural warranty.

* '" Polyethylene Tube complying with NSF/ANSI Standard 42.

* Stainless Steel Twin Bracket.

* Lead-free Chrome Plated Brass tap.

* Centre Watertight O-Ring.

* DO NOT Overtighten housing to head.

Housings are suitable for all 10 inch standard filter cartridges
Please choose one of the following water connections to be included in the package.
Please put a note on the purchase page of your preference.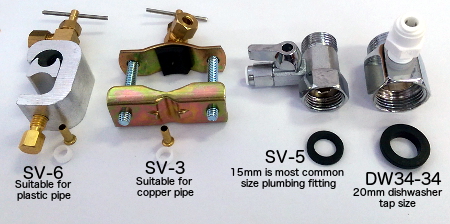 Replacement Cartridges Product code and link
ResinTech® sir-900-fluoride-media.pdf
Pb1® Carbon Block Filter Cartridge Details:
Extruded Activated Carbon Block Filter
Lead Reduction: NSF Certified
Cyst Reduction: Giardia, Cryptosporidium
Class 1 Turbidity Reduction
Outstanding Chlorine, Taste and Odor Reduction
MATRIKX® +Pb1 is a powerful, multifunctional filter cartridge for residential and commercial water purification systems.
Heavy Metals Reduction:
MATRIKX® +Pb1 extruded activated carbon filter reduces soluble lead using an ion-exchange filter medium with high specificity for soluble lead. Particulate filtration is used to intercept insoluble lead-containing particles. Standard 2.5" O.D. × 9.75" filter will reduce lead, meeting the NFS test protocol for over 2,500 gallons when operating at a flow of 0.75 GPM. Chlorine removal capacity is over 6,000 gallons.
Chemical Adsorption:
MATRIKX® +Pb1 filers offer high levels of chemical reduction in potable drinking water, including chlorine and other compounds that contribute to taste and odor.
Particulate, Cyst and Turbidity Reduction:
MATRIKX® +Pb1 filters provide > 99.96% reduction of 3-4 micron particulates, > 99.96% reduction of 1-2 micron particulates, and are high performance sediment filters with extended life. Graded-density prefiltration combined with high dirt capacity, extruded activated carbon provide several times greater life than molded filters
Made in the U.S.A.
Competitively priced compared to Granular Activated Carbon Filters.
For Use With Cold Water Only
View your shopping basket or browse other items.
Other products you might be interested in