Omnipure Q5586 - GAC and Phosphate Water Filter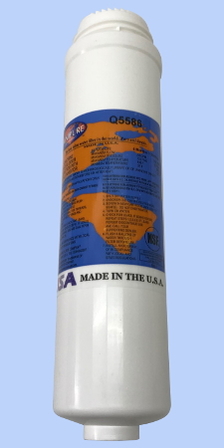 * Omnipure Q5586 made in USA. GAC & Phosphate Filter Cartridge.
* The Q-Series is the ultimate "user friendly" inline filter on the market. Replacement of the used cartridge is completed in a matter of seconds by detaching the filter cartridge body from the permanently fixed head with a twist of the wrist.
* Tested and Certified by NSF International against ANSI/NSF Standard 42 for Taste and Odor Reduction and Chlorine Reduction Class I.
* GAC and Phosphate Q series water filter which uses Granular Activated Carbon to reduce taste, odor and chlorine taste and odor and also control scale with the Polyphosphate.
* The Q5586 filter can be used for a variety of uses including, coffee machines, ice machines, water coolers, drinking fountains, as well as an under sink filter.
* The Q5586 will last up to 1 year on treated water supplies.
* The scale inhibiting properties of Phosphates are affected by the chemistry of the water being treated so scale reduction results will vary.
Normally $59.50 - Current Special Price $22.50
* Reduces:
* Bad Taste and Odor.
* Chlorine Taste & Odor.
* Scale
* Does not reduce fluoride.
PLEASE NOTE THIS IS FOR THE REPLACEMENT CARTRIDGE ONLY
This Q-Series water filter is a replacement filter cartridge only and must be used with an existing Q-Series head. If you do not have a head unit then you will need to purchase one to make the system complete.
The Q-Series heads are available in ¼" or ⅜"  Quick-Connect fittings or ¼" FNPT female threads.
Do not use with water that is microbiologically unsafe or of unknown quality without adequate disinfection before or after the system'.
View your shopping basket or browse other items.
Other products you might be interested in