Viqua VH410 - 10 inch Big Blue Kitset Package Deal
Viqua VH410 130 LPM Flow system, carries the WaterMark Certificate of Conformity. Made in Canada by the worlds largest manufacturer of UV systems.

* Twin 10 inch Big Blue Polypropylene Housings, made with materials complying with NSF/ANSI Standard 42 and carrying the WaterMark Certificate of Conformity.

* 1x20µ and 1x1µ, Polyspun Alpine Pure Gradient Density pre-filters, complying with NSF/ANSI Standard 42.

* 1" nipples and a 600mm long x 1" Stainless Steel Flexi Hose.

* Twin Stainless Steel Bracket with Screws & a Housing Spanner.

* Ready to assemble. This kitset is suitable for a 2 bathroom family home and will produce up to 70 LPM flow with an appropriate pump.
Price:
AU$
1,243.00
including GST
The Alpine Pure Gradient Density polyspun prefilters comply with NSF/ANSI Standard 42 and have different micron size as the water travels through the cartridge. First cartridge 50-20 micron and the second 20-1 micron.
The replacement parts are 10 B PS GD 20 Gradient Density 20 micron. 10 B PS GD 01 Gradient Density 1 micron.  Lamp is a S36RL and Quartz tube QS-012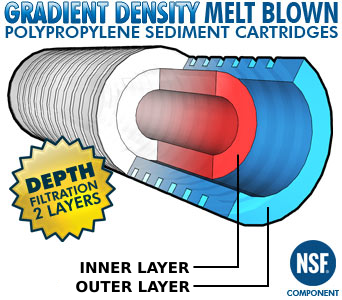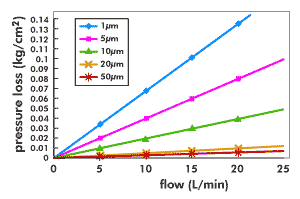 Features and Benefits
Gradient Density, Multi-Layered, Melt Blown Sediment Filter Cartridge.

Larger particles are trapped in the outer layers, smaller particles penetrate deeper.

Greater dirt holding ability and longer life than non-layered cartridges.

Thermally bonded polypropylene micro fibers for purity and chemical compatibility

Contains no binders, agents, solvents, antistatic materials or wetting agents

Meets FDA requirements for food and beverage contact

No leachables or extractables to contaminate

No surface binders to reduce flow and increase change-out frequency

Available in wide range of lengths and micron ratings

Cartridges are individually shrink wrapped
Applications
Whole House Sediment Filtration

Reverse Osmosis Prefiltration

Food and beverages

Oil and gas

Fine chemicals

Electronics

Metal finishing
View your shopping basket or browse other items.
Other products you might be interested in