Omnipure K5520 Rural Cyst Rated 1 micron Carbon Block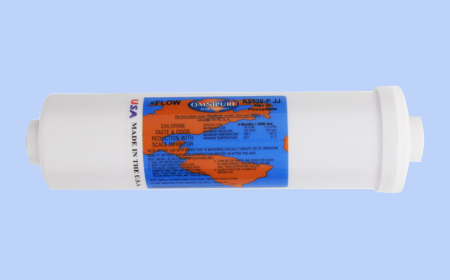 * Omnipure K5520 Made in USA. 1 micron, 99.99% Cyst rated Carbon Block Water Filter can be used to replace all inline Rural tank water filters.
* A Carbon Block Water Filter used to reduce sediment, taste, odor and chlorine taste Giardia Cryptosporidium and odor.
* This filter is not rated for removal of E-Coli
* The Omnipure K5520 water filter is used by many other companies and re-branded for rural use.
* The Omnipure K5520 Inline Water Filter can be used for a variety of uses including Coffee machines, ice machines, water coolers, drinking fountains, as well as an under sink filter.
* Life expectancy of 1 year Max. Please note: This filter does not include any Quick Connect fittings. It has ¼" FPT (female threads) on both ends. If you require ¼ inch Quick Connect fittings please choose from option below.
Normally $59.50 - Current Special Price $22.00
Omnipure K5520 Carbon Block Water Filter Specs:
Dimensions: 2.5" W X 10" L
Rating: 1 Micron Rating
Flow Rate: 1.9 LPM
Maximum Pressure: 125 PSI
Maximum Temperature: 38˚C
Service Life: 1 Year or 9500 LTRS
Filtration Media: Carbon Block
Reduces: Chlorine Taste & Odor
Reduces: Particulates Class 1
Fitting Size: 1/4" FPT Thread 
Do not use with water that is microbiologically unsafe or of unknown quality without adequate disinfection.
Note the direction of flow arrow on the filter and install accordingly.
For quick connect fittings: Push scratch free tube end into the fitting until it bottoms.
Omnipure K5520 PDF Data Sheet

View your shopping basket or browse other items.
Other products you might be interested in